National History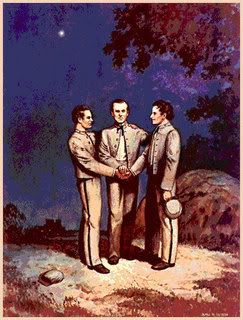 In 1886, a Confederate veteran from Arkansas enrolled himself at the Virginia Military Institute (VMI) in Lexington, Virginia. This man was named James Frank Hopkins.
Being from the military, Hopkins was willing to tolerate the constraint placed upon him during his service. However, as a cadet at VMI, he was unwilling to be subjected to any such treatment. Along with Hopkins, there were two other cadets at VMI who were also very displeased with the hazing situations at the school. These two individuals were Greenfield Quarles and James McIlvaine Riley, from Arkansas and Missouri respectively.
Following a Bible study one evening at the Superintendent's home on a quiet October evening in 1868, these three individuals met at a limestone rock on the edge of the VMI parade grounds to solidify their plans of abolishing the system of hazing that persevered throughout the school at that time. Upon this limestone rock, these three men clasped their hands on a Bible and pledged to form a new society that would soon be called the Legion of Honor.
However, the Legion of Honor remained a secret to others at VMI until January 1, 1869, on which the three founders revealed the existence of the Legion of Honor, dubbed Sigma Nu to the public. It is considered, however, that the spiritual birth of the fraternity was in 1866, when the three founders enrolled at VMI.
Starting after 1870, Sigma Nu began spreading to other colleges. The first chapter to start at another school was the Beta Chapter at the University of Virginia, and thus the chapter at VMI was dubbed the Alpha Chapter of Sigma Nu.
On July 9th and 10th of 1884, the Sigma Nu fraternity held its first national convention in Nashville, Tennessee. This convention later became known as Grand Chapter, which would meet every two years and serve as the legislative body of Sigma Nu.
At the Grand Chapter of 1915, it was decided that Sigma Nu needed a permanent home and a centralized location for its administrative offices. Thus it was decided that Indianapolis, Indiana would be the new home of Sigma Nu, and on November 1, 1915 the headquarters of Sigma Nu was officially opened. However, there were many dreams that Sigma Nu would eventually make its return to Lexington, the birthplace of the Legion of Honor. Thus on June 9, 1960, Sigma Nu made its official return to Lexington, and the new home of Sigma Nu was named the Sigma Nu Headquarters Shrine.
---
For information on the Lambda Eta Chapter of Sigma Nu click here!